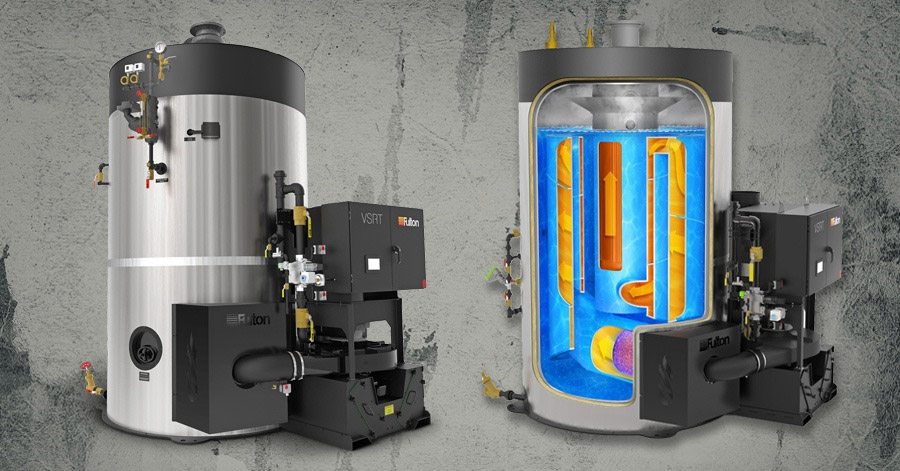 Fulton's Latest Boiler Technology – Introducing The "VSRT" Steam Boiler
Fulton is raising the bar with the VSRT (Vertical Spiral Rib Tubeless) boiler, the world's first fully wetted, refractory00-free vertical tubeless boiler and the new standard for industrial steam boiler design. Fulton's patent pending spiral rib heat exchanger achieves industry leading heat transfer rates. The unique spiral design provides a long heat transfer path which is optimized to achieve maximum heat transfer in a compact space.
Optimized using PURE Technology, the VSRT provides the highest efficiencies available combined with a compact vertical footprint. VSRT boilers are built to last as a reliable source of clean steam, providing cost savings and operator peace of mind for years to come.
Industry Leading Efficiencies
Achieve Up to 86% efficiency with up to 10:1 turndown ratio and NOx emissions less than
20-ppm standard.
Highest Steam Quality Available
A tall steam space and generous steam release area result in greater than 99.75% steam quality.
Fully Wetted Pressure Vessel
All heat exchanger surfaces are water backed and poured refractory is eliminated from the design, resulting in exceptionally low jacket temperatures. The VSRT features a fully water backed pressure vessel wrapped with high density insulation, resulting in minimal thermal losses and low jacket temperatures.
Lowest Operating Costs
As the world's first and only spiral rib tubeless design, the VSRT has been optimized so that the spiral rib heat exchanger can transfer the most amount of heat in the most compact space.
Ease of Ownership
Our engineers considered every aspect when designing the VSRT. From high-grade controls and easy-to-access maintenance points, to our breakthrough cyclonic air filtration.
Custom Engineered Solutions
With extensive engineering experience, Fulton's team can design and build a system tailored to your specific needs. From concept to delivery, you are part of the process, ensuring timely and accurate completion of your custom engineered system.
Modulating Burner Controls
Siemens LMV3
Linkageless controls can save 3-15%
Variable Speed fan motor as standard
Variable speed fan saves electrical cost
Tight closing air damper as standard
Tight closing air damper saves up to 2% on-off cycles
Digital Pressure Sensor with PID controller maintains +/- 2 psig steam pressure\
High performance combustion
Up to 10:1 turndown ratio
Reduction of cycling can save Quantifiable $
Cyclone provides clean combustion air to the burner
Minimal maintenance
5-year burner head warranty
Dramatically reduces fan noise
Filling the collection chamber is equivalent to over 100 filter cleanings / change overs
Less maintenance than any other mesh burner
Less maintenance than a power burner
Best water volumes for vertical tubeless boilers
Comparable and superior in some cases to horizontal fire tube boilers
Water volume helps handle swing loads
Water volume is specifiable
14" steam space
>98% dryness fraction at >5psig
>99.75 at 10psig +
High steam quality saves the user $$$ heat exchangers work to specification
Less system issues at lower pressures
Steam quality = System efficiency
Scale Resistant Design – Scale falls to the bottom of boiler vessel
Let Mason Engineering tell you more about this innovated technology