Mason Engineering is a company that has represented boiler manufacturers for over 50 years and has vast experience in the steam and hydronic boiler industry. Our product lines include highly recognized boiler manufacturers such as Fulton, Smith, Unilux, Lochinvar, and Reimers.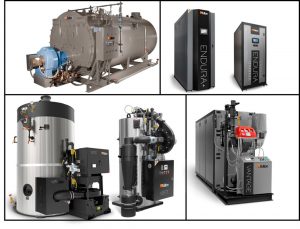 Our list of boiler brands represents most, if not all, of the different types of boilers; i.e. firetube, watertube, copperfin, stainless steel condensing, vertical tubeless, horizontal scotch marine, cast iron and electric –or both steam and hot water, capable of firing natural gas, #2 fuel oil, and/or a combination of both.
With our experience, we provide the latest technologies in boiler and combustion controls to provide the highest system efficiency. We are factory trained to service our boiler equipment as well as our competitors' brands. We can provide you a very competitive quote, design and turnkey installation or all-of-the-above that is required for your project.
Consider Mason Engineering for your next steam, hydronic, or hot water application.