When it comes to general industrial, municipal, commercial and building service pumps, Weinman is widely recognized for quality, efficiency and economy.
Weinman pumps are particularly adept in HVAC and water service applications. Weinman pumping equipment and systems are widely found in boiler feed or booster service, chilled or hot water, cooling tower condensate and sprinkler, ice storage and liquid circulation. General water services include potable water transmission, sump and sewage ejection, municipal and industrial water treatment.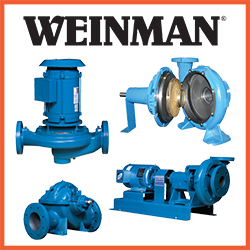 Need assistance on a product?
Our Team is standing by. Fill out a form to get started today!